MINIDOKA RELOCATION CENTER
october 2012 | by ben harrison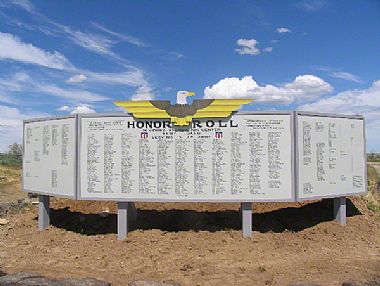 The "Friends of Minidoka" Society asked Sea Reach to reproduce an historic sign that listed the names of all the members of the camp who had served in World War II. The Minidoka Relocation Center in Jerome County Idaho was one of 10 relocation centers where Japanese and Japanese-Americans living on the West Coast were moved in August 1942, eight months after the attack on Pearl Harbor. The Center operated for more than 3 years, closing in October 1945. The Friends of Minidoka educate the public about the internment experience and the center is now a National Historic Site managed by the National Park Service.
Approximately 1000 of the Minidoka Center internees served in the U.S. Army during World War II. Their names were painted by hand onto the original wood sign. Over time, the wood deteriorated and the paint faded.
The Friends of Minidoka wanted to reproduce the sign with materials that would endure time and withstand weathering. Our efforts to replicate the original sign with complete historical accuracy proved challenging, but everything worked out with a little detective work.
How would we accurately reproduce a sign from just 3 photographs? That's all we had to go on, as no one had measured the original sign, nor did an independent list of the names exist-we had to pour over the photographs of the old sign to recreate the list of names.
Then it was up to me to recreate all of the pieces and make them fit into these dimensions while keeping them easy to read, visually appealing and as true to the original as I could. The final product turned out great and as a designer, it was nice to have a positive influence on an important piece of American history.