december 2012 | by ben speidel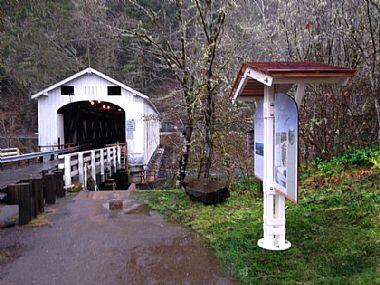 Sea Reach recently developed signage for the beautiful and historic Goodpasture Covered Bridge, which is listed on the National Register of Historic Places. The Goodpasture Covered Bridge was built in 1938 and was named for Benjamin Franklin Goodpasture, a pioneer farmer who had settled near the bridge site. At 165 feet long, it is the second largest covered bridge in Oregon and can be found two miles west of the community of Vida, spanning McKenzie River.
In 2010, Lane County received $2 million in a federal transportation grants to renovate the bridge to its former glory with work beginning in 2012. OBEC, the engineering firm contracted to define the bridge rehabilitation, hired Sea Reach to design and fabricate exhibits portraying the history of the bridge.