july 2014 | by linda repplinger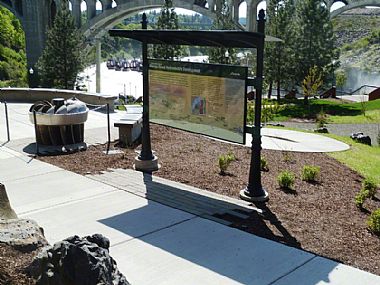 When I arrived at the construction site in September, it was hot, dusty, dry and steep. Since then, the park has gone through a great transformation to lush green lawns and meandering paths. Recently, the newly renovated Huntington Park reopened to the public. The renovations and development of City Hall Plaza were a gift from Avista, who operates several hydroelectric developments along the Spokane River, including two dams in downtown Spokane.

Purple gondolas from Expo '74 follow the route of the park as it terraces down a hill toward the Spokane River. A wide concrete staircase next to the river covers the penstock where water rushes through to a giant Kaplan turbine inside an underground powerhouse. Vibrations from the spinning turbine can be felt from its lid! Interesting artifacts from historic hydroelectric projects, such as a turbine are placed along the pathways, and metal sculptures of a man on horseback and a lady smoking salmon give a glimpse into the importance of this river to the Spokane Tribe.
As part of sprucing up the park, Sea Reach worked with Jeff Frost from REC Resources on a series of exhibits to highlight the rich history of life and hydroelectric development here. The exhibits use colors and design elements that harmonize with the look and feel of the new park. We also designed and fabricated directional signs and a large kiosk using cast metal components to compliment the historic-style streetlights. The quick transformation from an inaccessible and unkempt spot along the river to a enjoyable destination is a sight to behold!