december 2014 | by kathy hocker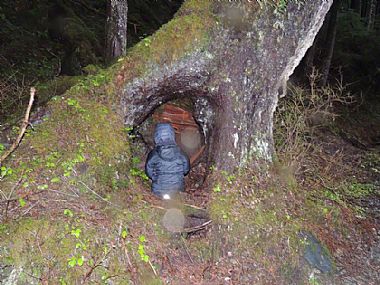 It's a chilly gray day in Juneau, Alaska, but my eight-year-old friend Bruno doesn't mind. Like any proper Alaska kid, he's bundled warmly, cap to boots-in fact, at the rate he's leaping and tumbling along Auke Lake Trail, he' probably too warm.
Sea Reach has been hired to create interpretive exhibits for this trail. Since the signs will be designed primarily for children, I have engaged an expert for advice: I've invited Bruno along so I can learn more about how a kid experiences the trail.
Within just a few yards of the trailhead, it's clear that Bruno's imagination, curiosity, and quicksilver energy make for a decidedly non-adult perspective. Bruno is all about engagement. He prefers to clamber along the sides rather than walk the trail's smooth surface. He takes photos, twirls sticks, and tosses spruce cones, all in rapid succession. When we come across a stilt-rooted tree, he dives in underneath like a porcupine. It takes us almost two hours to travel just about a mile-but it's a mile packed with small adventures.
By the time we get back to the trailhead, my mind is jumping among potential topics like a kid through the woods. I can't wait to start planning the new interpretive signs! First, though, I treat Bruno to a cup of cocoa and a waffle at a local café-a small reward for some truly expert advice.