september 2013 | by alex ogle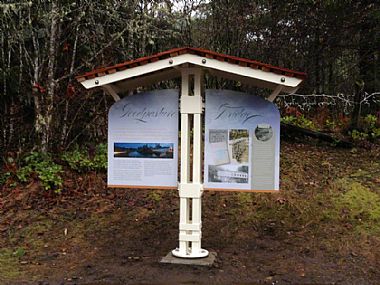 Sea Reach recently had the opportunity to develop interpretive signage for the beautiful historic Goodpasture Covered Bridge, listed on the National Register of Historic Places.
The Goodpasture Covered Bridge was built in 1938 and was named for Benjamin Franklin Goodpasture, a pioneer farmer who had settled near the bridge site. At 165 feet long, it is the second largest covered bridge in Oregon and can be found two miles west of the community of Vida, spanning McKenzie River.
In 2010 Lane County received $2 million in a federal transportation grants to renovate the bridge to its former glory with work beginning in 2012. The bridge was constructed using the Howe truss system developed in 1840 by William Howe, an architect hailing from Massachusetts.