A PICTURE IS WORTH A THOUSAND PIXELS
may 2014 | by linda repplinger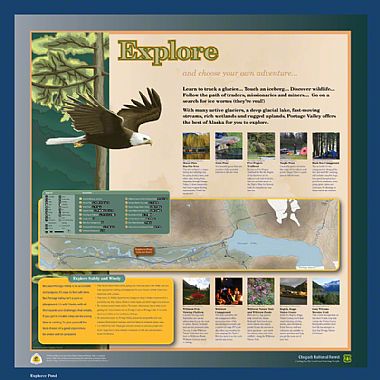 I was very excited to begin the illustrations for Portage Valley, and soon realized it was going to be a fun but daunting task: twenty-five full-color paintings and over 65 animal line art illustrations!
Working digitally enabled me to use a mixture of techniques used in watercolor, acrylic, and ink media: solid and transparent lines and washes with different sizes, angles and styles of brushes. One of the biggest benefits was being able to use layers and thus almost work within another dimension of time and paint over and under objects. One of the biggest challenges was training my hand not to shake while intently holding the mouse or stylus! I had to concentrate on relaxing my arm and move from the elbow and shoulder (an old dentist trick). After a few 12 hour days I could feel it!
Both the full-color paintings and the line art illustrations were created to interact with the text and exhibit. Ice cornices threaten to crash down into the text, coyotes pounce out to capture prey, sandhill crane legs dance into view and kayakers paddle through.