WYOMING CENTENNIAL SCENIC ROUTE

project date: 2010 | by susan jurasz | 1 related blog(s)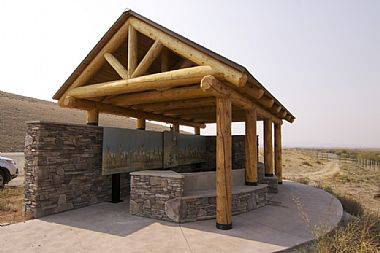 The Wyoming Centennial Scenic Byway travels through the Gros Ventre Wilderness, past the Grand Tetons, nudges the corner of Yellowstone National Park, and on to the painted hills of Dubois.
The scenery changes rapidly from wide open ranges filled with pronghorn to steep ragged mountains. Miles of brightly colored aspen open up to red, orange and cream striated hills-you want to keep your head on a swivel for this drive.
In 2010, Sea Reach was contracted to plan and design a series of exhibits for two new waysides with large stone and log kiosk structures and some ancillary stops in between.
A year later, Sea Reach was contracted to fabricate and install all of the structures. The more challenging aspect of the project included two 20-foot-long murals to be featured at both overlook buildings. The murals were initially designed to hang from the wall, but during later discussions with the Forest Service landscape architect, we decided to build a structure to display the mural in front of the wall. This created an interesting challenge. The structure needed to be modular for shipping and installation, light so that one person could install it without big equipment, and the materials needed to be able to withstand extreme temperature and exposure.
The installation was completed in September 2012.