august 2015 | by susan jurasz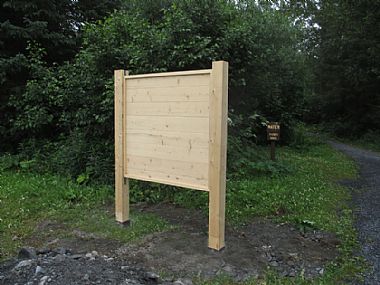 "It rained for forty days and forty nights and the sun never set."
This is the line from one of our installers after a month working out of Seward, Alaska. He was assembling and erecting a series of large and small Alaskan yellow cedar kiosks along the historic Iditarod Trail. During the installation, he lived in a cabin, watching eagles each night and collecting Alaska stories in the rain and the lingering light. The best tales were about the salmon and the raven.
From almost the first day, Ray began fishing after work. His catch quickly accumulated, so, ever resourceful, he decided to build himself a smoker. A friendly Alaskan gave him some aged alderwood, and soon he was dining on his own freshly caught and smoked salmon.
The raven came later. At one of the job sites, near the end of the work, he was up on top of the kiosk installing the metal roof when a group of tourists stopped nearby. For the longest time, they stood and photographed him working. After a while, he began to think this very odd. When he finally looked questioningly at them, they asked: "Is that raven your pet?" Standing beside him on the peak of the roof was a huge black bird. Every time Ray moved forward and back, securing the metal to the wood rafters, the raven had stepped forward and back in a synchronized rhythm. The onlookers were fascinated, and Ray was tickled. Later, he shared his salmon with the raven and considered him a pal.