january 2016 | by peter reedijk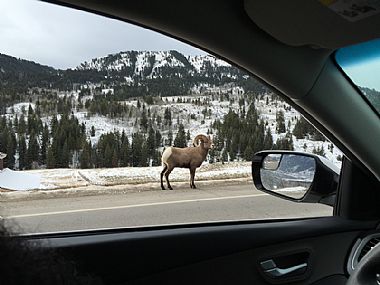 Snow flurries just started as I began my trip down 191 to Pinedale, WY. It was late and getting dark, so I was eager to get some miles behind me. Only minutes outside Jackson Hole, the snow, no longer just flurries, started to close in on the road. I was gaining elevation and the road became a serpentine of curves, limiting my view. Darkness descended all around me and there was nobody on the road. No lights behind me and no lights ahead. It feels lonely here. . . Then suddenly, a warning light flashes urgently: BEWARE, deer next 5 miles. And not just a simple warning, but a 20-foot wide warning sign! My mind races ahead to tomorrow's installation.
That is why I'm here. Our install crew has been on the road for several days and we are about to rendezvous and install a 30-foot-long outdoor art structure at a pullout overlooking a vast prairie. The installation interprets the long trek both pronghorn and antelope make during the spring and fall migrations. These lovely mammals used to cross this treacherous road often causing many human and wildlife casualties. Now a specially designed overpass allows wildlife to cross safely, out of harms way. The overpass is massive and our art installation attempts to put into scale the size and significance of this structure. My focus shifts back to the road. Still two hours to go. Watching out for stragglers passing by.