I THINK I SEE THE END OF THE TUNNEL...
february 2012 | by peter reedijk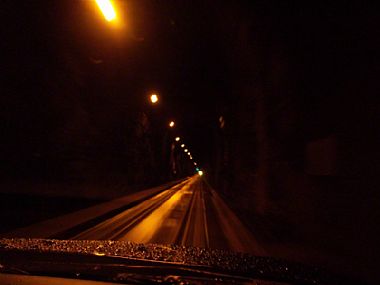 I hung my head out the car window, as our wheels whirled over the tracks, peering in the dark for the light at the end of the tunnel. "Oh no! It's the train," Linda shrieked behind me. No way, it is supposed to be on a schedule and cars are not allowed in the tunnel if there is a train coming. But it sure did look like the headlight on a train. The four of us sat staring into the distance, questioning what we saw, as we sped toward the light. After a minute of silence (that is a long time in a narrow tunnel) we began to see the wet stone walls around us take shape in the daylight coming through the narrow arched entrance, and sure enough there was a train... waiting for passage through the Anton Anderson Memorial Tunnel.
The Portage Valley outside Anchorage Alaska, is best known for its glaciers. But as the glacier recedes, the rich stories that surround this isthmus that nearly connects the beluga whales in Turnigan Arm with the tufted puffins of Prince William Sound, come alive. This is place where busloads of tourists from all over the world meet the wilds of Alaska; a place that the folks in Anchorage call their back yard. Sea Reach will be developing an interpretive plan and over 40 exhibits to celebrate this amazing place.