april 2013 | by peter reedijk | show project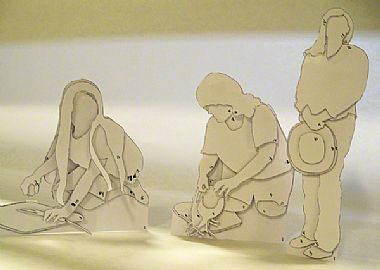 The Paiute at Mount Charleston have been coming to this site before recorded time, and they continuing to do so. This mountain provides shelter, food, medicine and a place to reenergize. As you travel up into the mountains, the temperature and moisture change and this creates varying environments for different plant and animal communities. In a relatively short distance going uphill there is tremendous variety.
The Paiute's history is intricately woven into this landscape. To help make visitors aware of this relationship, new exhibits will celebrate the Paiute's presence on the land with a series of full size steel silhouettes. The steel sculptures are designed from historic and contemporary photos of local tribe members. After artwork is generated, full scale mockups are created and tested in the field. Each silhouette is designed with layers providing a three-dimensional affect. Fabrication involves cutting each layer out of a steel plate and attaching them with in a way that is reminiscent of old fashioned sewing patterns.