january 2013 | by linda repplinger | show project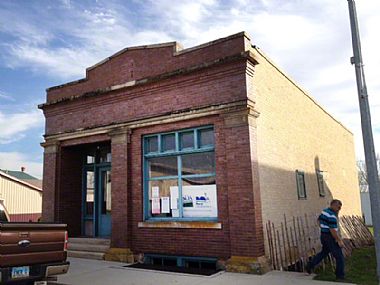 The old brick bank building sits at a crossroads in time - once the site of a train track where pioneer farmers transported hard red winter wheat from the fields to towering grain elevators, it is now the route of the Sheyenne River National Scenic Byway. Seeing the old building surrounded by miles of farmland reminds me of my grandma's stories about growing up in North Dakota.
The building was constructed in 1916 as Kathryn's bank and served as one for many years before going into receivership during the Great Depression. Through the years, the building housed a creamery, a grocery store with a lunch counter, and a furniture store before it was abandoned and began to decline. Today, the building is being restored as a meeting hall and visitor center with new graphic displays. After nearly 100 years, the building still has its original tile work at the front entrance, a state-of-the art 1900s burglar alarm, and a vault with 2-foot-thick walls.