september 2014 | by megan whitaker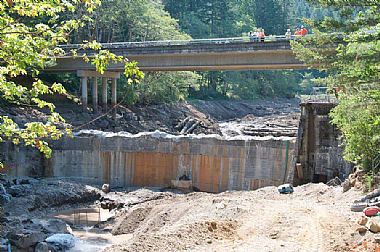 Decades ago photographs were often thought out and posed; a family picnic at a lake might have been recorded for later generations. For this reason, a photo of locals enjoying Hemlock Lake was something I hoped to find at the Columbia Gorge Interpretive Center in Stevenson, Washington.
Unfortunately, the removal of Hemlock Dam divided the community in support or opposition of the Forest Service - hence our involvement in the project. Usually when I request locals for photos of their past, I am met with a warm reception and a flood of stories to accompany each photo. Not so with this project. The call went out and the only response I received was an angry letter.
I had been told the interpretive center would have such photos but after combing through all 24 photo binders, not one photo of Hemlock Lake was to be found-a strange occurrence for such a well-known site - so strange I have to wonder if someone knew I'd be looking for such photos.