RIGHT ARM BLUE, LEFT LEG RED, LEFT ARM YELLOW
september 2014 | by ira trussell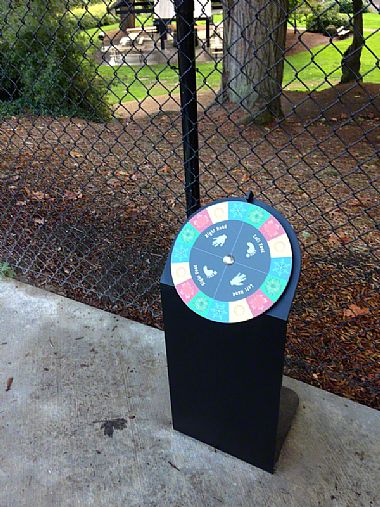 George Rogers Park in Lake Oswego, Oregon is beautiful. A portion of it sits right on the Willamette River. Nearby sits an iron furnace built of brick, making you instantly aware that this place has an interesting history.
The park has ball fields and playgrounds, and a week ago, we added a new feature: a "Human Pretzel" game. Based on "Twister," Sea Reach designed large panels with a seasonal twist, featuring stylized snowflakes, suns, fall leaves and summer flowers. Near by is a spinner, which when spun determines where your hand and feet are to be placed on the game board. Give it a couple spins and you may be wound into a knot.
During the install, performed by all macho guys, I tried to get someone to show off his flexibility while I sent the spinner spinning, but no one would take me up on it. I suspect they snuck back later to give it a spin.
The challenge for this installation was designing for rain. The six-foot game panels are embedded in concrete - and due to expansion and contraction with temperature changes, a border needs to be left around the exhibit panels. If water enters the space under the exhibits and freezes, it can push the panels out of the pavement. To mitigate this situation, Sea Reach worked with Lake Oswego Parks to insure that the space beneath the exhibit panels is sloped and has drain holes.