august 2014 | by michael warner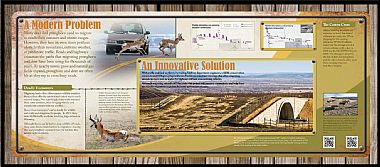 I always had a soft spot for pronghorn while working in Yellowstone. They never got the press that other animals did! Gaggles of tourists follow elk calves in the spring and their testosterone-fueled fathers in the fall. Bison are bison. Bears cause their own traffic jams, and as for wolves, well... A wolf can't so much as breathe in the Greater Yellowstone Ecosystem without someone writing an Op-Ed about it!
I'm not denying any of the aforementioned animals their glory. I just hate to see the struggles of the pronghorn brushed aside. Urban sprawl, roads, and fences (yes, fences - anyone who has watched the heartbreaking scene of a small herd of pronghorn stopped cold by barbed wire can tell you, pronghorn can't jump!) have made it difficult for pronghorn to migrate. In one spot near Pinedale, Wyoming, development has cut one route to just a half mile wide. Increased traffic has led to more and more pronghorn being hit crossing the highway. Thankfully, efforts to protect this migration have cumulated in the construction of innovative crossing structures.
Naturally, I was excited to have this project as my first Sea Reach assignment. I could go on and on about what inspired me, but the simple answer is pronghorn are remarkable. These great animals need our help, and the steps being taken to preserve this ancient migratory route are a huge undertaking. This project deserves all of the recognition it can get, and I'm overjoyed to be a part of it!