A RIDE ON THE WILD SIDE...
april 2014 | by peter reedijk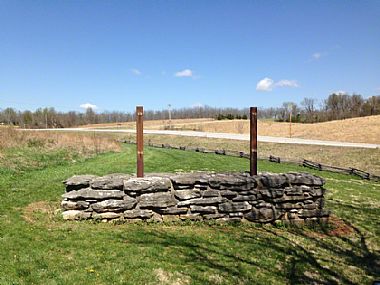 The final phase of our projects is often the installation of the work that has sometimes taken months to complete. For visitor centers or large site installations whole crews converge on a location and spend days or weeks finalizing this last phase of the work. But sometimes a single sign installation can be a crew of one or two.
For the installation of the main identification sign at the Wilson's Creek National Battlefield we arrived as a crew of two. Though this may seem more than enough, it looked like a daunting task given the 6 feet high and 25 feet wide dimension of the sign. Luckily enough, between the two of us we have over 50 years of experience to solve most problems we come across.
One can never predict what will go smoothly, and what will turn out to be a problem. It wasn't long before we encountered our first challenge: opening the crate of the massive wooden signs. Packed vertically for transport, the 3" thick cedar wood signs provided a days worth of work, but eventually capitulated and were gently layed to rest on the flat surface for mounting to the sign frame. The remaining installation went pretty smooth: traveling over highway and through rough wild fields with the sign components, installing a 24 feet frame with an eighth of an inch tolerance on an existing rock base, and finally the raising of the sign faces with just two guys and a forklift. Check!