january 2014 | by linda repplinger | show project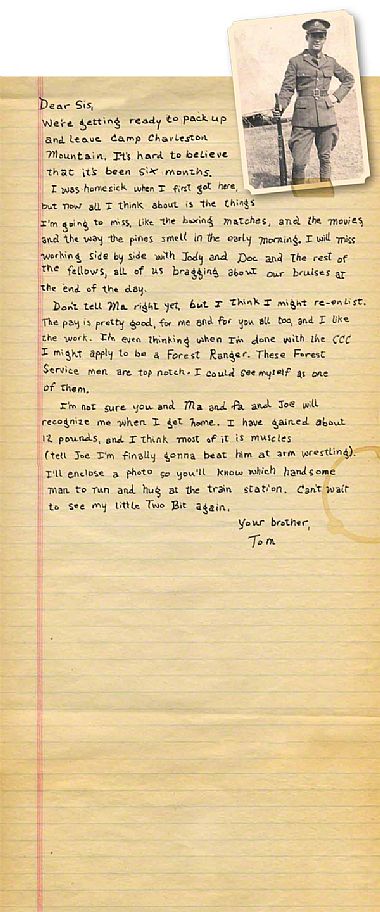 Handwriting can reveal a lot about a person and an era. As a young girl, I admired my grandma's perfectly looped cursive handwriting - she was so beautifully composed in a letter. I also enjoy looking over notes from my mom, all written in a friendly, optimistic hand and enhanced with humorous illustrations.
Sea Reach has recently had a couple of projects where the interpretive story unfolds in a letter or series of postcards. For me, designing the letters and creating the handwriting was like casting characters.
Our latest project of this nature was a "Path to The Past" at a picnic site in the Spring Mountains National Recreation Area, just outside of Las Vegas, Nevada. Along the trail, a series of letters tucked into old canvas mailbags reveal what it may have been like to be a young man working on a Civilian Conservation Corps team in the early 1930s. Tom, a fictional "CCC boy," learns new skills, develops self confidence, and sends earnings home to help his family.
Casting the handwriting of Tom started with some research. What type of writing utensils were used in the early 1930s? The ball point pen didn't make its mark until after it was patented by Laszlo Bira in 1938. Fountain pens were popular in the 1930s, but I settled on a pencil, which would have been more likely to work even in the cold mountain weather. Next, I researched handwriting samples from the 1930s, on the internet and in my own ancestors' documents, to pick an appropriate style for Tom.
While copying Tom's letters, I had to slow down from my quick dashes to achieve the angular, deliberate letters of that handwriting style. I was later to learn that young men in the CCC actually took classes to improve their handwriting skills!