EUREKA SCIENCE BUS OUTFITTED IN GREEN
december 2012 | by susan jurasz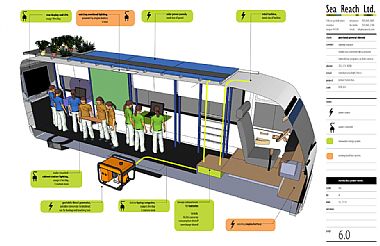 Our second trip to Amman, Jordan, is really productive. After nearly 24 hours of travel, Peter and I are blurry-eyed but excited to visit our brand new bus at the Toyota dealership with our project partners: Suha, Ruba, and Natasha. We have all waited a year for this!
The new passenger bus will be converted into the Eureka Science Bus. The mobile lab will feature solar panels, a green roof, a wind turbine and a biodiesel generator. All of the seats will be removed to make room for student workstations, storage cabinets for lab equipment, and educational/interpretive exhibits.
By the end of the week, we have the measurements we need to finalize the interior design and are engaging three Jordanian businesses to assist us with the transformation-a large format printer, Sama Jordan Signs, who will be printing our bus wrap design on vinyl and applying it to the exterior; the young entrepreneur and owner of TAQETNA who will be outfitting the bus with solar panels and his newly patented wind turbine, and JMSS, part of KADBB, who will be removing all of the windows and seats.
By this time next year, students throughout Jordan will be conducting hands-on experiments and making scientific observations from the bus!