NEW LOOK FOR HOYT ARBORETUM
september 2012 | by ben speidel | show project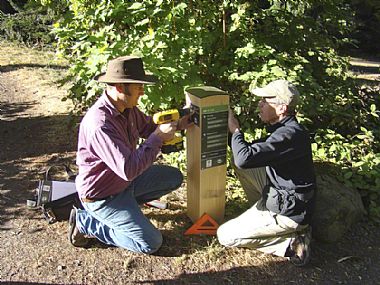 6 people, 12 miles of trails, 125 wooden markers, 187 acres of park, 266 signs, 1300 holes drilled, 1350 screws. The change to Hoyt Arboretum? Priceless.
The installation of 266 new signs for Hoyt Arboretum is just one phase of a new comprehensive wayfinding plan for Hoyt Arboretum.
Sea Reach was contracted in 2010 to develop a comprehensive wayfinding plan for Hoyt Arboretum, located two miles west of downtown Portland, Oregon. This project includes updating all of the maps, signage, brochures and interpretive elements that assist people in finding their way around this lovely place.
The Hoyt Arboretum is a shining example of what makes Portland great. It's an urban oasis with miles of beautiful trails that showcase scenic views of Mount Hood and downtown Portland as seen by the trees themselves. If you have never visited, you are truly missing out.
The Arboretum staff is wonderful and is supported by an amazing group of regular volunteers. There are seventeen trails that vary in length and difficulty, ask them to help pick the best one for you!