february 2013 | by nicole adsit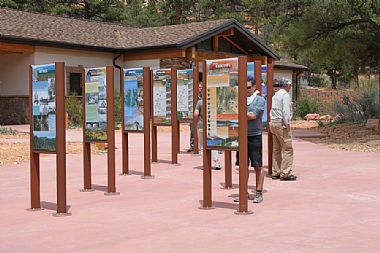 Nestled along Highway 12 in the Dixie National Forest, Utah, Red Canyon is exactly that: red!. Huge red rock formations thrust from the ground creating a vibrant and dynamic landscape. Within Red Canyon visitors can mountain bike gravel trails, navigate the canyons on horseback, speed past scenery on OHVs, hike the ridges on foot, or seek solitude in a dispersed campsite. Sea Reach is creating a set of exhibits at the Red Canyon Visitor Center to help users navigate the area specific to the recreation of their choice.
With all the recreation available to visitors it was necessary for us to establish a visual hierarchy within each exhibit. Visual hierarchy refers to the organization of information through color, font size, and composition. We found it very important to incorporate a structured composition on each exhibit so that visitors would know where to find pertinent information, such as map, trail description and elevation graphs. A project like this is beyond exhibit design, it is Information Architecture.