february 2015 | by susan jurasz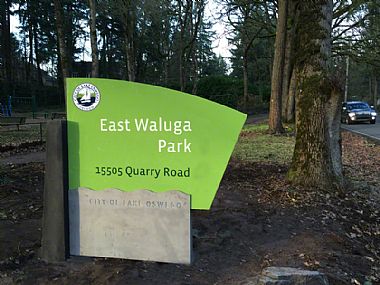 In our design/build projects, I still feel a little jolt of surprise when the finished product looks just like the drawings we have been nurturing and finessing for months. The design phase is full of ideas and time spent working with clients. Then the product goes into fabrication. It enters our shop and becomes a reality; colors, textures, and shape are suddenly given dimension. I love it!
Our most recent experience of this realization is on our project with Lake Oswego Parks and Recreation. After years of nursing old wooden signs that had to be repainted annually, the City of Lake Oswego hired Sea Reach to consult with the park facilities crew (an awesome group of people!) to design and build longer-lasting, more durable park identity signs.
The new signs are fabricated of weathering steel, stained concrete, and automotive paint with a clear coat. The park names and addresses are applied with a series of layered paint runs and masks. The result: great-looking, durable signs...that won't need to be repainted every year.