THE THIRD AND EQUAL BRANCH
february 2015 | by kathy hocker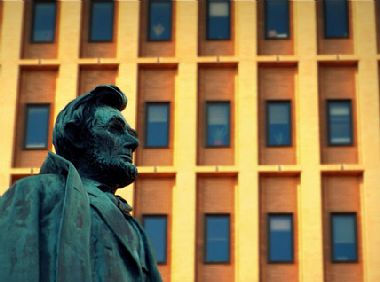 In this new project, Sea Reach is tasked with designing and fabricating interpretive exhibits for the US District Court—Eastern Washington District. It was a memorable site visit: humbling and inspiring, in about equal portions.
First, the setting: the Thomas S. Foley Federal Courthouse, towering over its Spokane neighbors, with an imposing Modernist design. Each time the Sea Reach team entered the building, we ran the gauntlet of security—metal detector, x-ray, and all. Inside: tall ceilings, the hush of serious work, sober hallways hung with judges' portraits.
Next, the people we met with: the Clerk of the Court and a Deputy Clerk (basically the CEO and highest administrator of the Court), District Court Judges, a Bankruptcy Court judge, and building managers. To a person, they were intensely articulate, deeply knowledgeable, and passionate about the federal justice system—a body that, as one of the judges succinctly put it, constitutes "a third and equal branch" of the United States Government.
Finally, the subject: the history of this District Court, its landmark decisions, and its role. This is where I feel pretty ignorant at present! People come to federal courts as jurors, witnesses, plaintiffs, and defendants. They come for bankruptcy hearings and naturalization ceremonies. But I've never had close contact with a Federal Court, that I know of—I suspect that's true of a lot of us.
Humbled and inspired by the "third and equal branch…" I'm looking forward to learning more.