SOLAR ARRAYS: BALDOCK REST AREA
february 2012 | by susan jurasz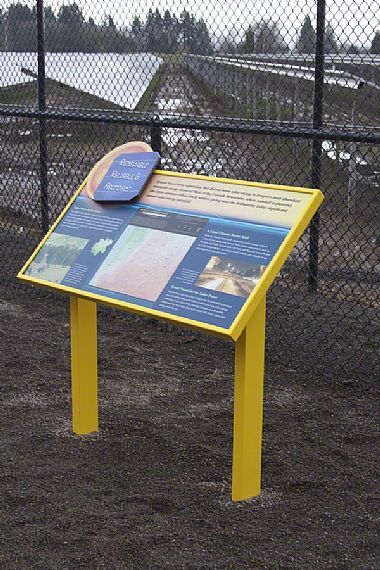 I thought the best place for a solar panel would be in the Sahara Desert, but it turns out, this is not true! Photovoltaic cells create a platform where photons (light) excites electrons into a higher state of energy, producing an electric current. These cells need light - not heat. So, solar panels work as well in cool weather (actually better) than they do in hot weather. All they need is access to light.
The Oregon Department of Transportation is in the process of covering vast areas of land, designated as highway right-of-ways, with solar arrays. These solar arrays can generate enough electricity to cover nearly all of the electrical expenses associated with the state highways from street lights to rest stops. And it all comes from the sun - even on a cloudy day!
Sea Reach designed, fabricated, and installed four exhibits introducing a large solar array installed at the Baldock Rest Area. To celebrate the clear sky and sunshine, the exhibit structures are powdercoated bright blue and sunshine-yellow. Bursting out of each exhibit is a three-dimensional title band with a sun and a photovoltaic cell.