august 2015 | by cory schott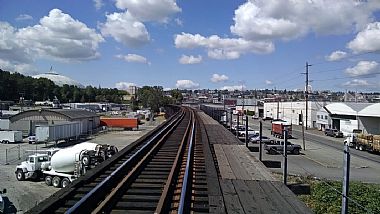 We are working on a project for Sound Transit (the transit authority for Puget Sound) to interpret an historic train trestle that is soon to be demolished and replaced with a long span bridge. Since the trestle is being removed, we wanted to preserve the experience of riding across this long wooden trestle, particularly because it has an S-curve in it — so, we asked if we could set up a camera on a train and ride across. The client smiled and said —"Better than a train, let's take the Hi Rail."
It turns out that a Hi Rail is a truck fitted with steel guide wheels in the front and back that allow it to move from road to rail with a simple flip of a switch. Hydraulic pumps lower the rail wheels onto the track and secure the truck onto the rails. Its tires still provide the propulsion and braking, but most of the weight is on the rail wheels. No steering is required. In fact, our first ride across the trestle was backwards! Our team attached cameras to several places on the Hi Rail vehicle.
Prior to taking the ride, we had to pass an online safety class and then we met again for a safety briefing before we got on the tracks. They told us we had two hours with clear tracks… according to routing officials stationed in Texas!
Our Hi Rail driver, Ron, has been working on this section of track for decades, including with the trestle's previous owners, the Chicago, Milwaukee, St. Paul and Pacific Railroad (better known as the Milwaukee Road). He shared some great stories. It was amazing to experience it in person.