ALL CREATURES BIG AND SMALL...
march 2016 | by susan jurasz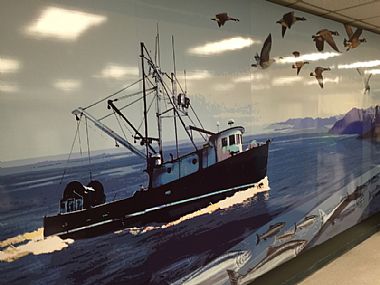 Nestled at the base of glacier-laden mountains, bordered by one of the most expansive river deltas in the world (the Copper River Delta) and accessible by only boat and air — Cordova, Alaska is the gateway to a scenic wilderness. Whether you arrive by boat or plane, it is difficult to comprehend the magnitude of what surrounds you. On a cloudy day, you see a small town harbor or a one-room airport. On a sunny day, the beauty of the scenery is so vast and varied that it is difficult to absorb. Our task was to create a mural celebrating the ocean, mountains, and delta to greet visitors arriving at the Merle "Mudhole" Smith Airport.
The biggest challenge to the installation was designing a substrate to level out all the indentations and irregularities in the existing airport walls. We "hung" a new wall over the old, so that the mural would be flush on each of the three walls surrounding the waiting area.