june 2017 | by leia reedijk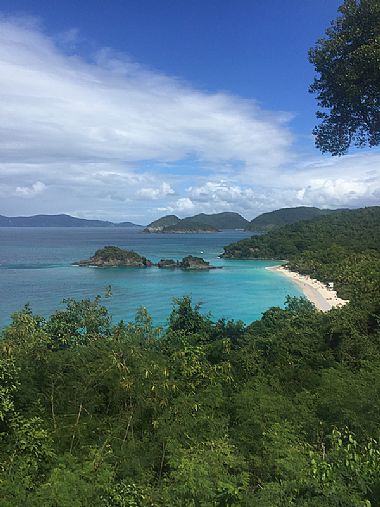 Serene blue water, warm sun, and white sand beaches—a welcome respite from the wind and rain back home. In this setting it's easy to forget we are on a business trip. We are in the U.S. Virgin Islands developing wayside exhibits for the Virgin Islands National Park on St. John—over 25,000 acres of protected habitat on land and underwater. For four nights we "roughed it" at an eco-resort perched on a hillside overlooking the ocean. In the mornings, we took lukewarm showers and watched the sun rise over of the water; in the evenings, the stars lit up the black sky and the creatures of the forest came alive. We listened to their trilling as we drifted off to sleep. It was the perfect way to experience the island.
Though St. John feels like paradise and most people come to relax and recreate, the park is an important part of a fragile ecosystem and there are many layers of natural and cultural history that most visitors aren't aware of. For example, there were once over 100 sugar plantations on the 7-mile-long island all built by enslaved people and, when the sugar industry collapsed, the cattle industry boomed and there were more cows than people!
The most important message though was one of conservation and preservation—this was nearest to the hearts of those who live and work on St. John. They are more aware than anyone of the impact we are having on the ecosystem, of the warming waters, the quickly disappearing corals, and the many other species that will diminish along with them. With nearly 500,000 visitors every year the question of the moment is: how do we mitigate our impact? How do we make people change their behavior? How do we make them care about the future of this precious habitat?