july 2016 | by leia reedijk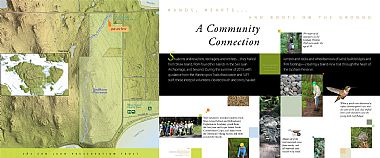 It is one of the most basic principles of design — the grid. Designing on a grid makes information accessible to the user, helps organize and create a hierarchy of information, and above all is pleasing to the human eye. It is all about balance, ratio, and rhythm. However, as Pablo Picasso said, "Know the rules like a pro, so you can break them like an artist."
The sign package that Sea Reach developed for the San Juan Preservation Trust is all about breaking the grid. Instead of locking the text and images into a rigid structure, these layouts are all about the elements' relationships to each other. Building from one point, so that each element references the others, creates a different kind of movement and flow within the design. The splashes of color and images across the panels are reminiscent of the scattering of islands in the Salish Sea that make up the San Juan Archipelago. The text, woven among images, contrasts the geometric and organic. What at first glance seems random has an overarching harmony based on counterbalance and context.