VERLOT PUBLIC SERVICE CENTER
january 2010 | by linda repplinger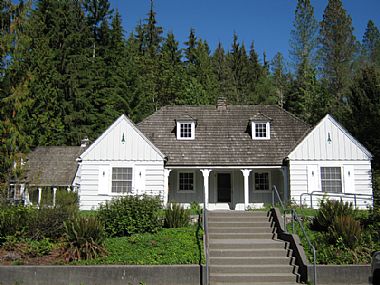 "Who's got a chain saw? Anyone?" There are seven downed trees between our loaded truck full of exhibits and the Verlot Ranger Station. My mind flashes to our drive the night before, which began on a sunny afternoon in Oregon - "This install will be a cinch, we can drive there" - and led us into the inky-black, near-hurricane-force winds of a northern Washington winter storm.

A full day and night later, the road cleared, and we arrive at the Verlot Ranger Station, a cozy CCC cabin nestled among the tall cedar trees of the Mt. Baker-Snoqualmie National Forest. We were glad for the shelter of this warm little building, as we worked to install the exhibits. Light glowed out of the hand-crafted windows. Outside a soft snow fell through the forest branches.

Somewhere on the other side of that storm, past the downed trees, over the river and through the woods, we landed back in time. In a real-life fairy-tale, spinning our craft installing exhibits in the shelter of the cabin just as men worked years ago.
The Verlot Public Service Center, in the Snoqualmie Mt. Baker National Forest, was built by the Civilian Conservation Corp between 1936-38. Originally built as a headquarters for the newly created Monte Cristo Ranger District, Verlot is now a staffed visitor center. The exhibits celebrate the history of the area from the Native Americans through the mining and lumber era, to today's scenic byway. Sea Reach planned, designed, fabricated, and installed the exhibits.