PRIESTS AND PRESIDIOS: A SPANISH TEXAS CRASH COURSE
june 2016 | by cory schott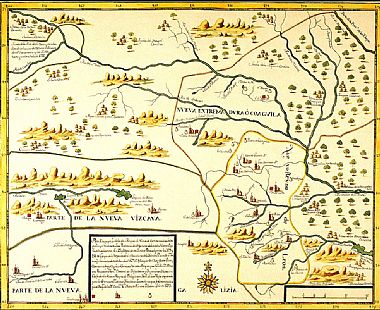 Sea Reach is developing designs for two visitor centers in Texas. Since both of these projects involve the interpretation of the region when it was a colony of Spain, I was tasked with bringing everyone up to speed on the colonial history of Texas. I graduated in colonial Mexican (and Texas) studies, so this was right up my alley.
Because I work with a visual people, I crafted a presentation that focused heavily on a few key narratives and dazzled them with imagery and textures. Broad swaths of political history were eschewed in favor of illustrative examples. Colorful period maps, carved stone facades, iron implements, and fanciful details from colonial documents let the flavor of the period sink in.
In the end, two concepts seemed particularly important for our purposes. The first is that Texas truly was on the edge of Spain's empire—just barely connected to the administrative centers in Spain and Mexico City. This sometimes allowed for more fluidity in frontier society. The other is the role of the environment played in the placement of towns, presidios, and missions. In this arid part of the world, development and travel needed to be carefully considered.