april 2012 | by susan jurasz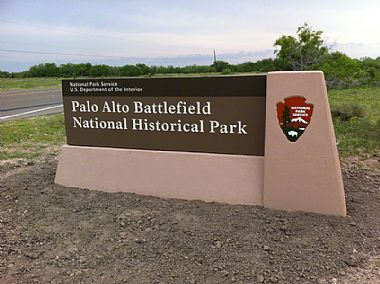 There is a certain look and feel to National Parks. There is a sense of history, commemoration, and pride - pride in being an American.
The project at the Palo Alto Battlefield National Historic Park, in Brownsfield, Texas placed us on the border between Mexico and the US. Only, it was not my picture of a US border with armed police and border patrol, instead it is a long meandering river - the Rio Grande - that creates the border. A slow moving, green river that has so many bends, it is difficult to say which side you are on at any given turn in the road. Every other car has a Mexico license plate, and everyone speaks Spanish and English fluently, it feels more like a foreign country parading as a US suburb than an American town. The battle fought at this historic battlefield determined this boundary.
On April 12, 2012, Sea Reach completed the monument sign to the Park.