july 2017 | by linda repplinger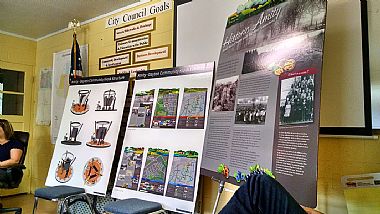 The communities of Amity and Dayton joined hands through a Ford Foundation Cohort program with the goal to create informational kiosks that function both as works of art and provide practical tourist information. Each kiosk—with one centrally located in each city—promotes bicycle tourism between the two communities and around the Yamhill Valley. They also highlight local attractions and each town's unique history.
High ambitions and a strive for creativity lead them to pursue this project and seek out Sea Reach Ltd. in the neighboring town of Sheridan to assist with designing the kiosks and exhibits. It is a rare treat to get to work on projects so close to home.
Each kiosk is designed to incorporate a rustic feeling through the use of peeled logs and metal elements that mimic bicycle gears wheel rims. A layered art banner that spans the tops of the exhibit panels picks up landmarks, historic themes from each town, and shows cyclists in each town. We photographed specific landmarks in each city to use on banners and the illustrated maps. It was a fun way to explore these local gems that are continuing to grow and gain in small town charm.