september 2020 | by susan jurasz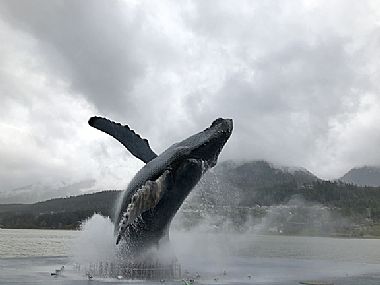 No matter where it is in the world, when a community regains public access to its waterfront, life flows in. In Juneau, Alaska, a new section of the waterfront Seawalk was just completed, and people are enjoying the improved access and environment. The key feature in this section of the Seawalk is a life size bronze sculpture of a breaching whale. Sea Reach, with roots in the early humpback whale research in Southeast Alaska, assisted with the science behind the near perfect proportion of this mammoth beast.
To complement the visitor experience, Sea Reach also developed a series of interpretive displays surrounding the whale and along the Seawalk. Exhibits depict the challenges of building a huge, water-spouting bronze whale and share information about humpbacks in Southeast. There are interactive exhibits featuring seabirds, weather (including a huge wind chime), and what it takes to safely ply the oceans in Alaska. Locals and visitors alike make this a must-see destination — a visit to the Seawalk will delight your senses in every respect.