LETTING ALEX SAFELY ENGRAVE, RESPONSIBLY
september 2016 | by alex ogle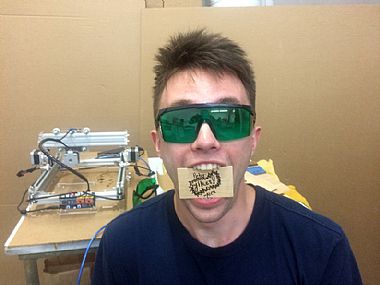 Pew pew! Guess what's new: we're firing our lasers over here at Sea Reach. Peter recently got a 5.5W laser engraver, and I had the pleasure of putting it together and testing it out. Curious about the strength of the laser, I ran a few calculations and discovered that if you were to look directly at the laser beam it is a little more than 2 trillion times worse than looking directly at the sun (yikes!) So first things first: no one gets near this without safety goggles!
Besides having to MacGyver a few of the electrical connections to the motors (our kit came with the wrong connectors), the mechanical and electrical build of the engraver went smoothly. Calibration is where the fun and the challenge lies. To determine their suitability for engraving, we ran tests on the variety of materials that Sea Reach has in its shop, including wood, plastic, painted aluminum plates, and even clear acrylic.
With our safety goggles and a little tinkering, we're now able to etch our designs into whatever can be burnt…experiment #1: Cory's lunch. Now no one will eat Cory's carrots!