october 2016 | by melissa boettcher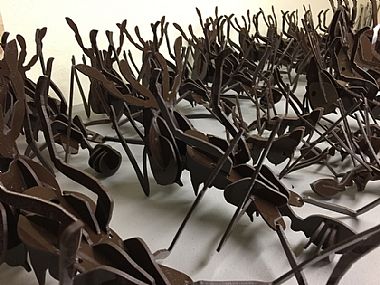 In the past few months we have been working on concepts for a visitor center in Texas. One of the concepts was to show leaf cutter ants climbing up the wall to a tree canopy and collecting leaves. The kick is: the ants increase in size from actual to giant.
We will now explore taking a concept into reality. In this case we will take a picture of a leaf cutter ant and turn it into a 3d object of an ant.
A few things need to be considered when taking an idea into reality:
How realistic do we want the ants to look?
How easy it is to put multiple copies together in multiple sizes? Will it be sent out or are we building these ants in-house?
What kind of materials should we use?
After some research we decided to move forward with our own version of a balsa wood ant. Looking at several photographs of a leaf cutter ant at various angles (top, side, underneath, front facing) we broke down the single planes of one ant. Using the "balsa wood dinosaur" concept we rebuilt the ant using the crossing planes, forming a new 3d ant. Prototypes were built to discover areas of issue in connection of the planes and to see the overall look in comparison with the real ant. After we completed the final design, we were ready to fabricate.
The ants were built in house, in four different sizes, from small to large. We used the design to cut the pieces out of acrylic using a CNC router table. Every piece, 25 pieces per ant, had to be assembled and glued together. We ended up with 38 ants in total. How many pieces was that in total? You do the math!