CHAMBERS BRIDGE TRAIN INSTALLATION
november 2011 | by ben harrison | show project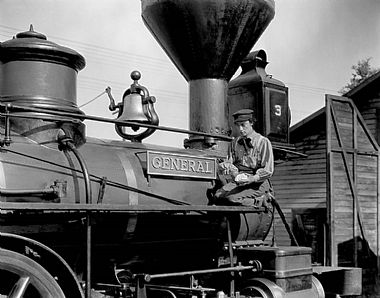 Being a classic western movie buff, I stumbled upon the fact that the famous director and actor Buster Keaton filmed the 1926 silent movie "The General", in the Cottage Grove area on the very tracks that we were now preparing to interpret.
"Wow," I thought and immediately got "steamed-up and rolling" on the 3D renderings and shop drawings for the two life-size exhibits representing the No. 4 steam engine. Upon completion of fabrication, I joined the install team. The first train (over 50 feet long and 14 feet high) was installed along the bridge's trusses, to give you the impression you were crossing the bridge beside it. Outside, when facing west toward the bridge's opening there appears to be a "ghost train" heading right towards you, this second silhouette is my favorite. With imagination, you can hear the trains haunting whistle and see its powerful steam pumping from its stack! A must see for anyone interested in America's old west history.
The Chambers Railroad Bridge is the only remaining covered railroad bridge in Oregon. It is believed to be the only remaining covered railroad bridge west of the Mississippi River. The Howe Truss bridge was constructed in 1925 by lumberman J.H. Chambers to transport logs across the Coast Fork Willamette River to his sawmill on the east side of the bridge. The bridge was in operation from 1925 to 1951. The bridge was in private ownership until December 2006, when the City of Cottage Grove finally secured full ownership of the bridge and rehabilitated it in 2011. The bridge is listed on the National Historic Register. Sea Reach designed, fabricated, and installed all of the exhibit elements for the bridge.