GRAND CANYON NATIONAL PARK
project date: 2011 | by peter reedijk | 1 related blog(s)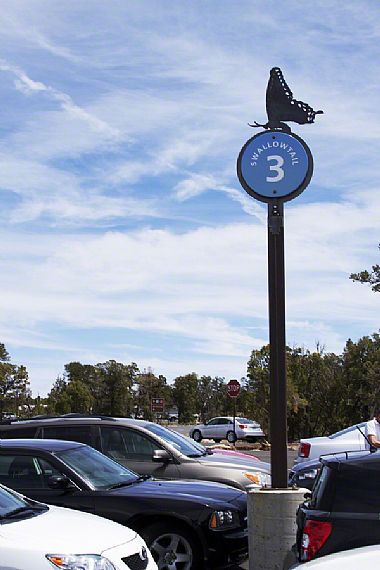 The majority of visitors to the Grand Canyon get their first glimpse from Mather Point. The Mather Point complex features a visitor center, bookstore, restrooms, an extensive shuttle bus system, and miles of trails. In 2009, ground broke on an eighteen-million-dollar enhancement project. In 2010, Sea Reach was contracted to produce the final design, to fabricate, and install all of the signage associated with the project.
Over 200 signs and fabricated structures for a variety of sign types were created. Ranging from huge twenty-four-foot long hanging signs to smaller pedestrian trail guides. All of the final design and engineering was done in-house. The installation was executed in three phases, also by Sea Reach.
Sign panel materials include several types: intaglio printing, porcelain enamel, poly carbonate, and vinyl on aluminum. Sign structures included weathering steel and aluminum. Each of the four parking areas were marked with large 0.5" weathering steel cut-outs - lizard, raven, bighorn ram and swallowtail butterfly.
Subtle design elements and details throughout the system provide a custom look that makes the signage appropriate to the environment. Rounded tops, hatch patterns, acorn nuts, layered panels all provide just enough attention to detailing to scale up this jewel in the Park Service.