project date: 2009 | by susan jurasz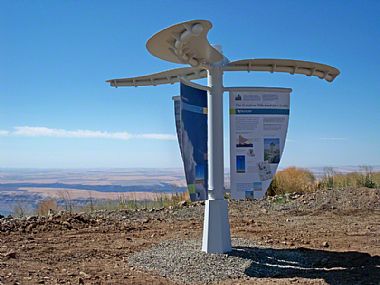 It doesn't happen very often that a site provides a momentous opportunity to inspire a visitor, but if there is such a site, this may be it. The stunning geological features and aesthetic viewpoint, combined with the interpretive message and commanding view of other wind farms, provides a unique opportunity to educate the public on a multitude of subject matters.
The kiosk at this new wind farm development explains to the user the benefits and workings of wind energy and the unique geography of this area that makes this possible. The kiosk is designed to blend in with this expansive array of wind turbines.