project date: 2012 | by susan jurasz | 2 related blog(s)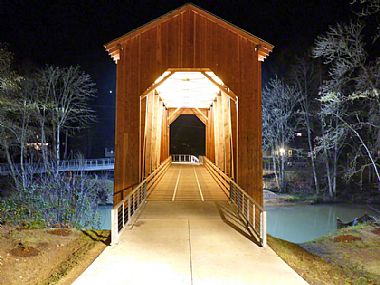 Chambers Bridge in Cottage Grove, Oregon is last the remaining covered railroad bridge west of the Mississippi River. It was nearly lost forever in 2006. The bridge was constructed in 1925 by lumberman J.H. Chambers to transport logs across the Coast Fork Willamette River to his sawmill. The bridge was in operation from 1925 to 1951. In the 1950's the railroad was sold for scrap and the bridge sat abandoned to weather and decay. The oversized timber construction designed to support the heavy loads of the steam locomotives and railcars loaded with logs sustained this bridge for over fifty years. In 2006, ownership was transferred to the City of Cottage Grove with the help of a million dollar grant award from the National Historic Covered Bridge Preservation Program saved this historic monument. The bridge is now listed on the National Historic Register (NRIS no.79002081).
Many times an interpretive project's inspiration begins with the first question that pops into our minds - why does this bridge have such strange proportions? Even as tall and narrow as it is, the engine's smoke stack had to be shortened to accommodate this bridge. So we decided to recreate the engine crossing the bridge: life size. Sea Reach designed, fabricated and installed a life-size silhouette of the specific engine that crossed this bridge hundreds of times with loads of logs trailing behind. We did another one for outside that kids climb up on to get a sense of what the conductor saw as he approached the bridge. A large covered kiosk displays colorful exhibits featuring the history of the bridge, the logging operation and the City of Cottage Grove.
Sea Reach was a subconsultant to OBEC Consulting Engineering, who designed and oversaw the bridge rehabilitation.