march 2015 | by susan jurasz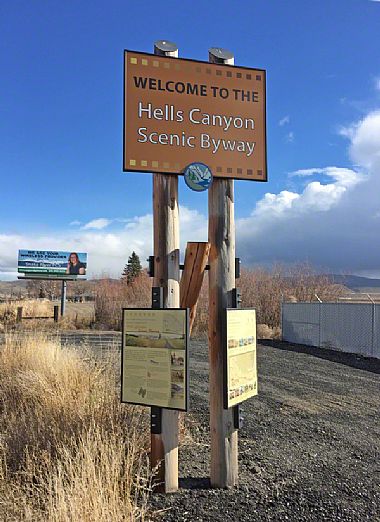 Fifteen years after we started work on the Hells Canyon Scenic Byway, we took a quick weekend road trip to update some exhibit panels. The weather was outstanding for February, and what we had planned as a three day installation trip, looked as though it might be completed in half the time.
We reached Baker City before noon, and started on the eastern portion of the Byway loop. The colors along the river were stunning. In the summer, the ribbon of vegetation along the river is the only green for miles; in the winter, its colors were like fire: bright yellows, oranges, and reds of the new twiggy growth of dogwood and willow. Set against the rolling amber hills, the brilliant blue sky was starting. Amid all this lovely color, It was good to see our exhibits and structures withstanding the test of time and weather. Everything looked great.
The weather was so balmy that we considered driving the National Forest portion of the loop, Hwy 39, thought the Wallowa mountains, but after two quick calls to the Forest Service field offices, we had to abandon the plan. Both offices said: Absolutely not, the road is closed for winter. So, we back-tracked to Baker City and La Grande, had a great dinner at the Lostine Tavern and spent the night in Joseph.
We woke up to a world of white. Over five inches of snow blanketed the earth outside our windows. This added a whole new dimension to the beauty! Living in the forested woodlands of the west coast of Oregon, it always amazes me the diversity of this state — and all within a half a day's drive.