REVIVING A CLASSIC - FT. VANCOUVER
february 2016 | by linda repplinger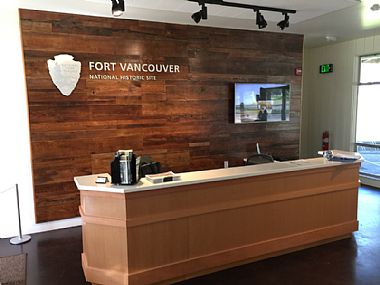 My memories of Fort Vancouver as an elementary school student on a field trip included exploring the Fort, watching a cook make hardtack in the Fort's kitchen, and of course Dr. John McLoughlin, whose presence is just as impressive through his photograph over 150 years later!
Working with the National Park Service to revamp their Visitor Center uncovered many other fun facts. Here are just a couple. Explore the new Visitor Center to find out more!
Archaeologists discovered the world's largest collection of Spode ceramics down privy holes. Although disposal of ceramic vessels in privies was not a common practice, excess ceramics may have been tossed here and some chamber pots may have accidentally fallen into the holes when emptied. Combined with other sites at the Fort, Fort Vancouver now holds the world's largest collection of Spode ceramics!
Hawaiians played a large part in the economics of the Hudson's Bay Company at Fort Vancouver. They worked as loggers, hunters and trappers, farmers, sailors, cooks, and guards. Fort Vancouver regularly traded lumber, flour, and lomo lomi smoked salmon via Hudson's Bay ships to a commercial post in Honolulu, in return Hawaii traded coffee, sugar, molasses, rice, and salt which could then be distributed to smaller posts. This relationship may be partly due to friendship between the royal family in Hawaii with the royal family in England.