A BAT MOBILE IN THE FOREST
december 2014 | by linda repplinger | show project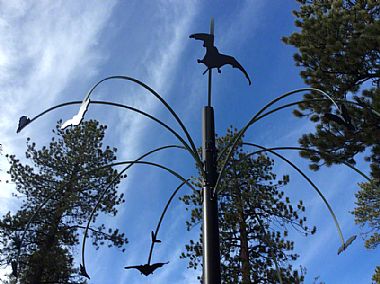 How many different kinds of bats do you think fly over our heads at night? I was amazed to learn that at least seventeen bat species could be found in the Spring Mountains, and thirteen are regulars to the McWilliams Campground. While designing bat themed exhibits for the campground, I learned how unique each species really is.
A dark color palette and a background of starry skies set the exhibits' atmosphere. One exhibit introduces all the species in the style of a team roster with portraits, size, weight, flight characteristics, calls, what they eat, where they roost, and their range. Each species also is shown at full-size flying throughout the exhibits with easy-to-read labels color-coded to the roster.
Other exhibits describe bats' amazing capabilities for flight and communication, roosting habitats, how and why bats are researched, and why bats are important to the ecosystem and to people.
When visitors look up they see life-sized bats flying above their heads, silhouetted against the sky. This effect is achieved with a mobile, which has metal cutout bats on the ends of long arms that move in the wind. Campers can now call out "to the bat mobile!"
Visitors can also experience what it is like to be a bark roosting bat in the "bat squeeze." The bat squeeze is made up of two rounded exhibits of tree bark that taper at one end to accommodate for various ages and sizes of people.
One final note: When the exhibits were being loaded on the truck to ship to Nevada, a bat flew out from the truck and over our heads, across the blue sky—we'll take this as a good omen