february 2013 | by alex ogle | show project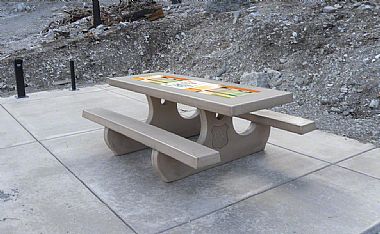 For months, our designers have been finessing the layouts for eighty-five (85) exhibit panels. These six-foot-long exhibits will be inlaid into concrete picnic tables in the newly renovated Cathedral Rock Picnic Area in the Spring Mountains National Recreation Area. When the project finally reaches print pre-press (my area), the general manager and I sit down to review the timeline. I can feel my blood pressure rise. Seemingly, no one was thinking about how long it would take to get 85 exhibits through production. We put the calendar in front of us: how much time do we need to run final color tests, prepare files for printing, print, proof prints, embed prints, QC embedments, tally and organize, package for shipping, ship, receive and install - as we forecast the tasks and we quickly realize, we do not have enough time to meet our installation date. Houston, we have a problem.
We gather the business together and re-examine our process. Each person identifies a more efficient way to perform a task. All together, we feel we can improve the timeline by a couple of weeks - giving us some wiggle room and ensuring that we can meet our deadline.