october 2014 | by megan whitaker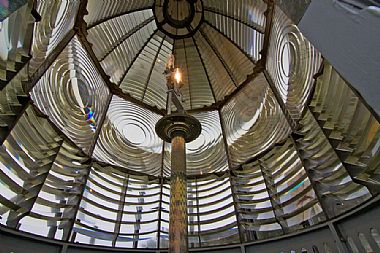 My kids and I left rainy Coos Bay and headed north on Hwy. 101- destination Heceta Head Lighthouse. As the day wore on, sun broke through the clouds and when we rounded the corner at mile marker 177, there it was in the distance.
Five minutes later, we pulled into the parking lot for the last tour of the day. Our volunteer was an enthusiastic woman who raved about the renovation of the lighthouse and our involvement in the signage.
My kids were impressed that for early keepers a trip to Florence - which we could see in the distance - was a seven-hour wagon journey. And the trip had to be timed correctly with the tides lest you be left high and not so dry!
The guided tour was a nice bonus, but for those who arrive outside these hours, our panels help fill the void and shed some light on the workings of a modern lighthouse.