project date: 2012 | by peter reedijk | 5 related blog(s)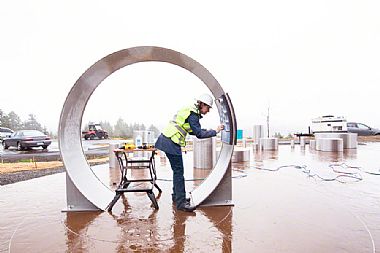 Sea Reach is working with the City of Portland's Water Bureau and Portland Parks and Recreation on the planning and design of a visitor center, outdoor discovery zone and interpretive trails for the Powell Butte Nature Park. The park represents one of the largest natural areas on Portland's east side and is significant to wildlife and nature lovers. Unique to this site are two huge underground reservoirs which feed the Portland public water system.
"We try to immerse the visitor in the interpretive story by creating larger-than-life experiences. By walking onto the Visitor Center plaza at Powell Butte, visitors will immediately realize that they are standing in a pattern of water waves. From there, they walk through a conduit that leads to a giant mural covering an entire wall of the Visitor Center. This mural gives a bird's eye view of the Portland watershed. All of the exhibits are designed to evoke an 'aha!' moment." Peter Reedjik, Sea Reach Design Director.
Sea Reach is also fabricating all the exterior signage and interior exhibits. On the interior, there will be four large exhibits, each exhibit features an aspect of the water system and something related to the area's natural history. At Powell Butte, kids and adults, small and big groups, can all learn about the underground reservoirs that feed Portland's water system and how the area is key for wildlife habitat, while having an opportunity to look for "discovery items," read poetry set into artwork that represents waves of water, and play with a water module.