project date: 2012 | by susan jurasz | 1 related blog(s)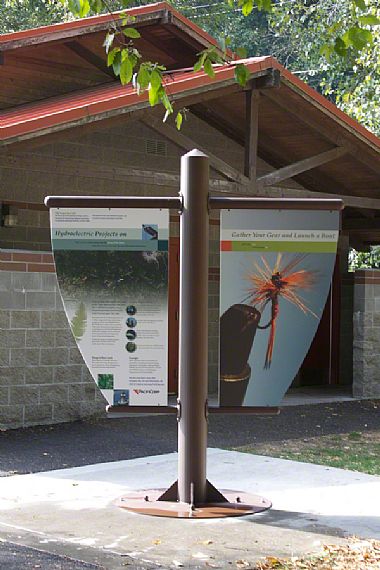 Although not formally in the recreation business, PacifiCorp, one of the West's leading utility companies, maintains miles of lakeside recreation sites. One of their larger hydro-electric projects is along the Lewis River in Washington. Hidden at the base of Mt. St. Helens, three reservoirs gather rain, river and ground water that will pass through the turbines at Yale, Merwin, and Swift.
In 2008, Sea Reach was contracted to develop an interpretive master plan for the entire area as part of the requirements for the 50-year relicensing effort of Pacificorp. Sea Reach worked closely with PacifiCorp staff, stakeholders, the Yakama and Cowlitz Tribes, and members of the community to bring stories about the natural and cultural history of the area to life. The exhibit structures are custom designed and fabricated with large images intended pique visitors curiosity, as well as be a glimpse into the narrative of each panel. Each exhibit features a range of interesting topic, raising questions such as: how do the three reservoirs work to provide the West Coast with hydroelectric power? What is the difference between salmon caught upstream and those caught downstream? What is unique about electricity as a commodity? How do electric rates fluctuate on a daily basis depending on things like the weather?
At this point in the project, Sea Reach has fabricated and installed the first phase of exhibits and is continuing to with Pacificorp planning, designing, and fabricating other interpretive opportunities.