march 2022 | by peter reedijk | show project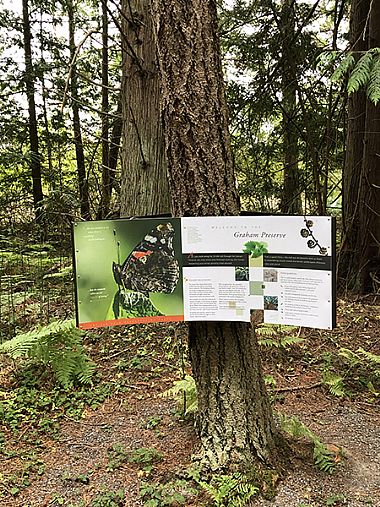 Sea Reach began working with the San Juan Preservation Trust, Washington in 2012. We conducted workshops with the staff and developed an interpretive plan to help define an approach to the SJPT preserves, particularly those that were attracting public interest. Recognized as one of the most prolific land conservation organizations in the country, the Preservation Trust has permanently protected more than 300 properties, 45 miles of shoreline, 27 miles of trails and more than 17,000 acres in the San Juan Islands.
Our challenge was to create a distinctly recognizable, yet flexible interpretive and site design approach that would serve its function and remain site appropriate in a variety of settings. Sea Reach has designed, fabricated, and installed signage for four preserves as the initial sites. Exhibits wrap around trees, others blend into the intertidal zone between upland and beach and some sit out on promontories looking over the ocean and islands in all directions.