INNOVATIVE DIRECTIONAL SIGNS
february 2015 | by peter reedijk | show project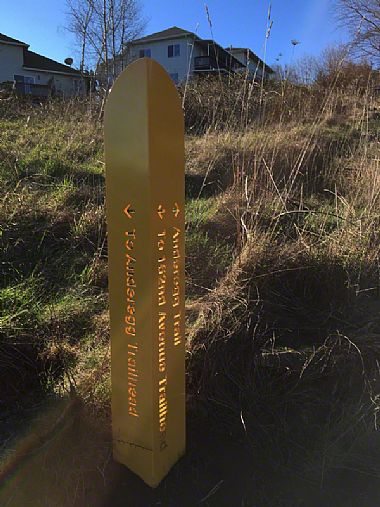 The design parameters were simple: design a sign system that will withstand vandalism, last for at least 20 years, is cost effective, and can be used by pedestrians, bikers, and horse riders.
OK. We like a challenge.
The first consideration: vandalism. Designing around this matter ripples through the rest of the design parameters. You either design something that is relatively simple and typically cheap to produce and replace it as needed, or use a material that can withstand abuse and can last for a long time, although the durability usually adds expense. According to our clients, the main problem in the park is graffiti tagging and, in extreme circumstances, attempts to destroy anything in sight. We decided to create a sign system with a relatively small available surface area to discourage the tagging of signs. By combining the upright with the sign panel (message), we eliminated hardware and possible weak points in the assembly. The materials used have an extremely long life and can be cleaned in a straightforward manner. Even when thoroughly abused, they can be resurfaced and reinstalled.
The second problem: the signs need to target multiple user groups. Pedestrians'ÄĒno problem. The speeds that they travel at means that sign messages can be easily seen. Cyclists and trail riders, on the other hand, need to have good target value and should be able to read the signs from further away. The eventual solution presented itself by solving the vandalism problem. The sign legends are cut out of the signpost using a specially modified font that looks better than the usual stencil font. The font is large enough to increase the visibility to 30 feet. The yellow sign stands out enough so bikers have time enough to notice it while traveling at high speeds, and horse riders can read the signs while sitting in the saddle.