project date: 1999 | by peter reedijk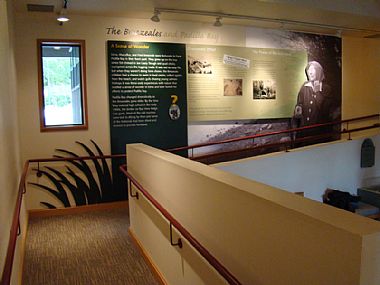 The Breazeale Visitor Center overlooks one of the largest contiguous eelgrass meadows along the Pacific coast of North America - over 7,900 acres! Due in large part to the significance of this habitat, Padilla Bay was designated as a National Estuarine Research Reserve in 1980. Currently, there are twenty-one estuaries nationwide in the NERR program. Sea Reach was contracted to plan, design, fabricate and install exhibits in the Breazeale Visitor Center.
The exhibit storyline guides visitors through a discussion of watersheds, estuaries, and Padilla Bay, highlighting the seagrass/mudfllat habitat. An eighteen-foot column rises to the vaulted ceiling in the center of the exhibit room, giving visitors a "larger-than-life" view of an underwater eelgrass habitat.
A thirty-foot "discovery" wall invites visitors to explore the life normally hidden from view on the mudflats. Doors, drawers and peekholes reveal backlit transparencies of colorful nudibranchs, tactile models of lugworms in J-shape burrows, and even the rotten-egg smell of anaerobic mud!