project date: 2005 | by peter reedijk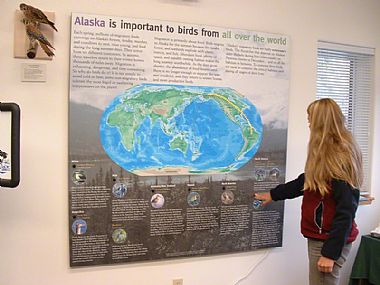 Each spring, millions of migratory birds converge on Alaska to nest, raise young, and feed during the long summer days. They arrive from six different continents. In autumn, these travelers return to their winter homes thousands of miles away. So why do birds do it? Birds migrate to Alaska for food because the tundra, forest, and wetlands explode with plants, insects, and fish. Abundant food and plenty of space makes the long journey worthwhile.
The Alaska Bird Observatory contracted Sea Reach to design and fabricate mobile, interactive exhibits. The area designated for exhibits is also used for presentations and workshops, therefore, exhibits that were not confined to the wall had to be designed to collapse and roll into storage.
Sea Reach produced a series of floor modular exhibits that can be easily updated and can withstand the wear and tear of being frequently moved.
The exhibits present information about bird migration, how to create back yard habitats for birds, as well as some myths and facts about cats and coffee plantations.