OREGON OUTBACK NATIONAL SCENIC BYWAY
project date: 2005 | by peter reedijk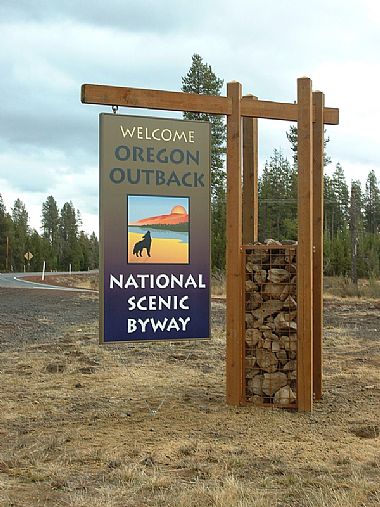 A journey along the edge of the Great Basin in Oregon takes visitors through volcanic landscapes, remnants of ancient lakes, and the legacies of Native Americans, explorers, and pioneer settlers. The Federal Highway Administration designated this unique and historic route a National Scenic Byway.
Sea Reach developed a comprehensive Interpretive Master Plan to market and interpret the byway. After the completion of the Master Plan, Lake County Chamber of Commerce sought funds and began to bring the plan to life.
After extensive planning, research, writing, and design, Sea Reach completed the first two phases of exhibits as well as a series of custom-designed and manufactured kiosks that help guide visitors along the 170-mile route. At key intersections and sites, orientation exhibits guide visitors along the byway and local attraction exhibits highlight nearby recreational opportunities. Interpretive topics range from geology to a rich cultural history.
The design was inspired by natural features and historic landmarks along the byway, the exhibit design and structures reflect the landscape. The "rock-box" kiosks mimic rancher's fence-lines, low-profile interpretive exhibits fade into the environment, and wall-mounted displays maximize space. Materials were chosen to maximize the budget, while delivering the most durable product available - specifically designed to withstand the harsh climatic fluctuations of the byway.