project date: 2010 | by susan jurasz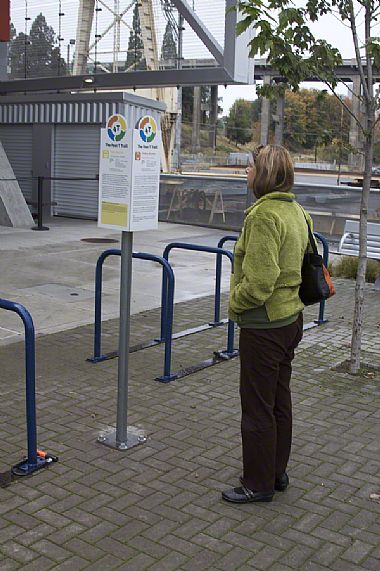 There is a unique 'hike' in Portland, Oregon that combines four kinds of transportation in a single outing: train, tram, trolley and trail.
The trail portion is about 3.5 miles and reaches one of the highest points over the city: Council Crest. A ride down the aerial tram to the Willamette River and you catch a streetcar trolley as it meanders through downtown. After a lunch at any one of the many local eateries, the light rail train takes you through one of the longest train tunnels in the West and this completes the loop.
Sea Reach was contracted to develop a logo, marketing materials, maps, trail markers, and a wayfinding plan to guide visitors along this unusual tour. The markers are four-sided, with each side focused on one of the four types of transportation. The trailside guides are written for specific points along the path, so that a visitor can follow the trail with complete confidence.