project date: 2012 | by linda repplinger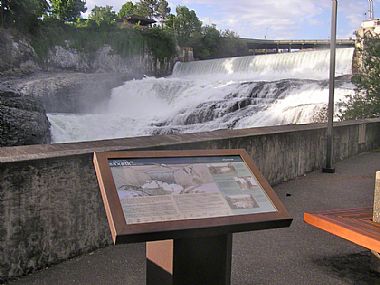 Eastern Washington's Spokane River is a prime example of a waterway rich with interpretive opportunities. In addition to many environmental, historic and cultural themes, the Spokane River also supplied the electricity that powered the region's early development.
Avista Utilities, which owns a system of hydroelectric facilities on the Spokane River, chose REC Resources and Sea Reach to develop interpretive exhibits at recreation sites along the river. In 2009 we created eleven interpretive panels for Riverfront Park in downtown Spokane. Many focus on early waterpower development - Avista's Monroe Street power plant, located at the lower falls, was originally developed in 1890 and has generated electricity longer than any other hydroelectric development in Washington state.
Sea Reach and REC Resources continue to implement Avista's interpretation and education plan on the lower Spokane River. We are currently creating exhibits for Nine Mile Dam, built in 1908 to power electric trains, and Long Lake Dam, which was the world's highest spillway dam when it was finished in 1915. In addition to hydropower history, we're interpreting the river's cultural significance to Native Americans and its importance as bald eagle habitat.