project date: 2005 | by susan jurasz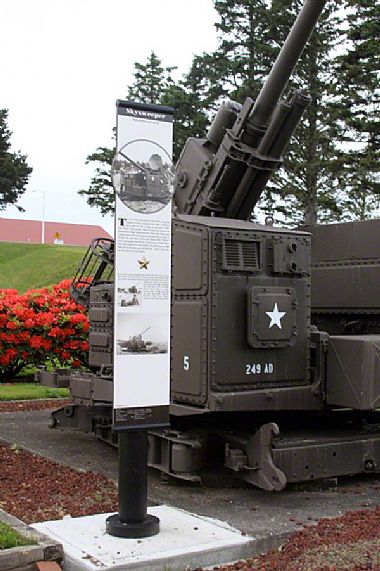 The Camp Rilea Armed Forces Training Facility is located on the northern Oregon coast. It hosts one of only three TSIRT (Theater Specific Individual Readiness Training) sites in the nation, and the only one west of Fort Benning, GA. Maintained by the Oregon National Guard, Camp Rilea is also a favorite training site for Oregon and Washington Guard units. The post is frequently used by civilian organizations as well, including the Boy Scouts. Its rifle and pistol ranges, barracks and mess hall facilities and mock "city" (called a MOUT site, for Military Operations in Urban Terrain) make it a favored training location for police Special Weapons and Tactics (SWAT) teams throughout the Pacific Northwest.
Throughout the Camp is a collection of large tanks and guns that have been restored. Sea Reach developed a series of interpretive signs profiling each piece of equipment, which stand tall and narrow next to each display. Each exhibit is designed with one piece of hardware - a single, three dimensional, gold star in the center of the panel. The color palate is predominately black and white.