project date: 2009 | by susan jurasz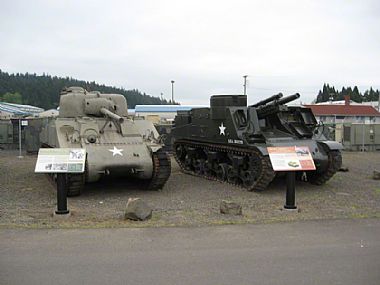 Camp Withycombe, was determined eligible for the National Register of Historic Places by the Oregon State Historic Preservation Office in July 1994. Located in Clackamas, Oregon, Camp Withycombe is a collection of National Defense facilities built between 1903 and the late 1930s. The rifle range, one of the oldest National Defense ranges in the western part of the United States, has served as a training ground for the Oregon National Guard for more than 80 years.
The camp still serves as a training facility, supply depot, and equipment repair facility for the National Guard. A small museum on site has a spectacular collection of military artifacts. Outside the museum is a selection of tanks with exhibits interpreting their history and military application. Sea Reach designed and fabricated the exhibits in the style of World War II graphics.