project date: 2001 | by charles jurasz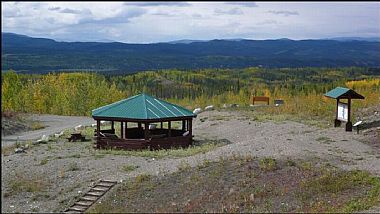 A steep drop in the global prices of lead and zinc resulted in a sudden decline in Faro's mining industry, home to one of largest open pit lead-zinc mines in the world and a significant producer of silver and other natural resources. Something had to be done in order to prevent this significant mining community in central Yukon Territory from becoming a ghost town.
When the community came together to discuss the possibilities available to them, they recognized that the town was strategically located in relation to extraordinary wildlife viewing areas and that they, therefore, had a promising shot at becoming a prime destination for Ecotourism.
To capitalize on this potentially profitable opportunity, Sea Reach was hired to develop a program of interpretive presentations for the new Campbell Region Interpretive Center and three local sites where a rare population of Fannin Sheep could be viewed at different times of year: The Mount Mye Sheep Viewing Cabin, The Fingers Ram Viewing Site, and the Faro Arboretum.
The remoteness of the sites required a unique approach. Electronic information listening displays, powerful binocular viewing stations and a wide variety of interpretive themes were to be installed where no electricity was available.