project date: 2006 | by susan jurasz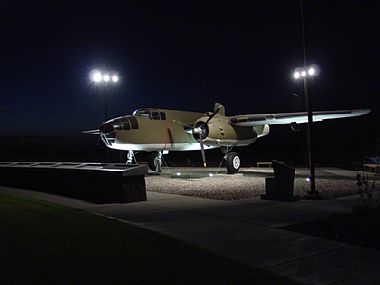 On April 18, 1942, sixteen B-25s bombers were launched from the USS Hornet deep in the Western Pacific Ocean. They were heading toward military targets in Japan - in what would become later known as the Doolittle Raid. This was the first air raid by the US to strike Japan during World War II. It was a risky mission. The plan was to bomb Japanese military targets and then, the aircrafts were to continue westward to land in China - returning to land on the Hornet was impossible.
All the sixteen planes involved in the bombing were lost, but thirteen entire crews (with five men each), survived, and all returned either to the United States or to American forces. Eleven crewmen were either killed or captured. By demonstrating that Japan was vulnerable to American attack, this maneuver proved to provide a vital morale boost and a shift in the war.
In 2009, Sea Reach developed exhibits to commemorate this heroic act. The exhibits are embedded into a concrete wall near a full restored B-25 bomber.