GREAT SALT LAKE SHORELANDS PRESERVE

project date: 2004 | by peter reedijk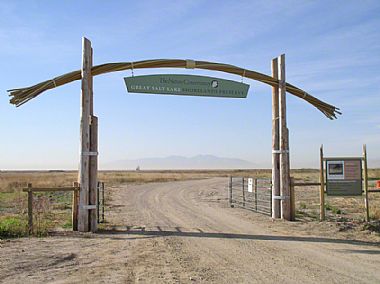 The Nature Conservancy (TNC) developed an interpretive site along the Great Salt Lake in Utah. The Board of Advisors, TNC staff, and consultants (including ourselves) met to design an interface between visitors and the Preserve. It was unanimously decided that this site should be different than all others. Rather than visitors learning about the outdoors while inside a building, like a visitor center, we decided to immerse the visitor in the "real thing."
The interpretive experience at the Preserve begins in an unusual gathering space, a pavilion, that sets the stage for an extraordinary experience. From the pavilion, a boardwalk leads visitors through a variety of habitats and landscapes. Along the walk, a series of pull-outs, zig-zags, circles, and resting spots offer visitors places to rest and gather information. One of the nodes is an observation tower that provides elevated views of the wetlands and of the Great Salt Lake. We also designed the entry and regulatory signs to complement the site and begin the interpretive experience. All the signage, from directional to restroom signs, reflect the natural environment and offer a playful, yet sophisticated design.
The concept of "nature by design" fulfills itself at this location. The exhibits are an aesthetic blend of art and science - each pull out and resting spot offers an unusual twist in the boardwalk and a unique set of exhibits.
This project received international recognition for its excellence in design and fabrication by the Society of Environmental Graphic Designers (SEGD).