CAPTAIN CLARK PARK AT COTTONWOOD BEACH
project date: 2006 | by peter reedijk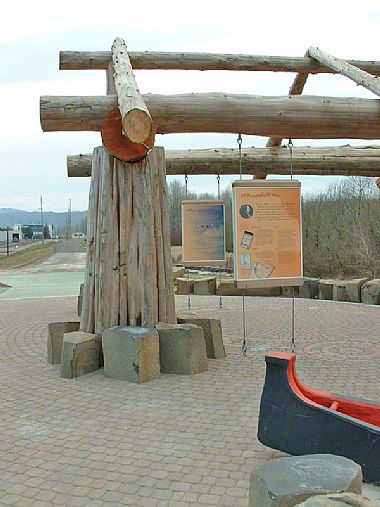 Captain William Clark Park at Cottonwood Beach is an 80-acre park transected by a one-and-a-half-mile-long dike-top trail with spectacular views of the Columbia River. This is a special site in the celebration of the Lewis and Clark Bicentennial - the Corps of Discovery set up a provision camp here for six days from March 31 to April 6, 1806. Sea Reach worked with JD White Company, Inc. and the City of Vancouver to plan the site and design the interpretive exhibits and signage. Upon visiting the site, visitors are greeted by a large, rough cedar log pavilion with suspended exhibits.
Overlooking the Columbia River, the exhibits along the dike trail tell stories about early explorers of the region, Native American peoples of the lower Columbia River, cultural significance of the Columbia River, the pioneer/settlement history of the Washougal area, formation of the Columbia Gorge, and flora and fauna habitat.
The exhibit design is intended to connect visitors with the "ghosts" of the camp through a combination of realistic and etherial images that were all site specific. The color palette employs contrasting colors and negative images in the backgrounds to help create the feeling that it is familiar and yet different - the here and now and yet past.
Throughout the site, near the pavilion and down at the riverside, are a series of concrete sculptures that represent canoes and parts of the provision camp. These sculptures are designed to entice the imagination and encourage play.