US ARMY CORPS OF ENGINEERS
project date: 2012 | by peter reedijk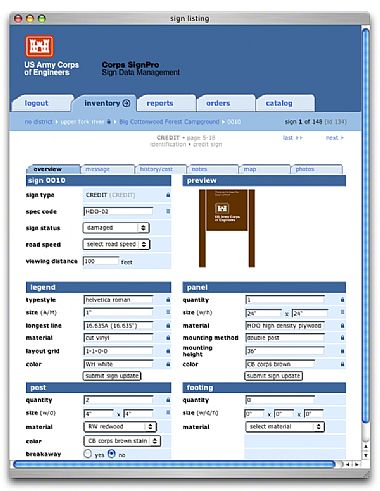 Twenty years ago, Peter Reedijk, while working for Meeker & Associates in New York, developed a software package that helps systematically plan, inventory, and order signs for the Army Corps of Engineers. The package provides data management for manufacturing, implementation, and maintenance. It links all signs in the system to specifications and use guidelines in WYSIWYG format.
In 2005, Sea Reach was contracted to upgrade the system and make it entirely web based with a relational database. The upgraded version includes pricing data and a comprehensive system of help files. The system supports site photos, GIS data, map links, and other tools for managing sign inventory.
The program is the most comprehensive sign management program available for large sign programs (over 4,500 locations and hundreds of standard and custom sign designs as well as inventory). Sea Reach currently makes a similar package available to clients as part of a sign management system. The open architecture allows for data input from map servers, as well as data output to GIS applications.