CITY OF PORTLAND WAYFINDING

project date: 2007 | by peter reedijk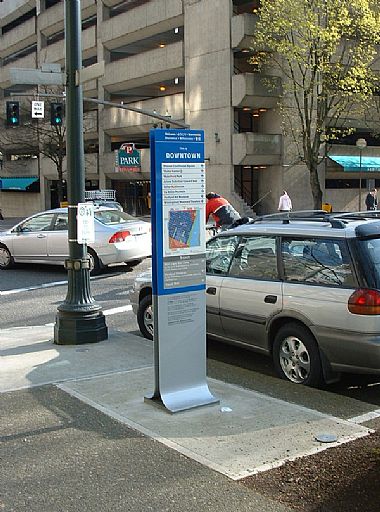 Sea Reach worked under contract with the City of Portland to finalize the design, engineering, fabrication and installation of over one hundred pedestrian map kiosks. The system is color coded by district and each kiosk provides transit information and directions to primary and secondary destinations.
The maps are all "heads-up" - as a visitor views the map on the kiosk, what is ahead of them is up, what is on their left is on the left side of the map and so on. This style of mapping is designed to assist the visitor with travel and ease navigation. If the destination is two blocks to the right on the map, it is two blocks to the right of the person standing at the kiosk.
Project management included reporting to three organizations: Portland Development Commission, Portland Department of Transportation, and Portland Parks and Recreation.
The wayfinding pylons are constructed of powdercoated welded aluminum with phenolic resin graphic panels. All structures are interchangeble making maintence and replacement easy and cost effective.